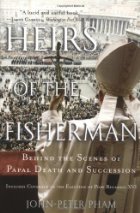 by John-Peter Pham
The election of a new pope always captures the world's attention, as all eyes turn to the chimney atop the Sistine Chapel, where the color of the smoke is our only clue to the secret deliberations inside. In this fascinating volume, former Vatican insider John-Peter Pham takes us where outsiders have never gone before, providing vital background to the selection of the heir of the fisherman.
Here is a highly accurate portrait of the modern Vatican–indeed, the only account to reveal the striking changes to papal succession procedures made by Pope John Paul II. Blending political and ecclesiastical history, Pham goes beyond a mere description of the complex rituals–including a rare insight into the dramatic shifts inside the College of Cardinals, whose 130 members now hail from 57 nations around the globe. Pham takes us into the secret conclave (from the Latin cum clave, "with key"), where the electors are kept under lock and key, incommunicado, until they have selected a new pope. Here we find a fascinating chronicle of political intrigue set in the context of ritual–including a chapter devoted to the intrigues of the 20th century where the first conclave had an emperor's veto and the last was won by the first non-Italian in four centuries because the Italians were bitterly divided.
In a most timely analysis, Pham also provides a valuable one-by-one assessment of the present-day cardinals and possible candidates (papabili, or pope-ables) to succeed John Paul II. He explores the legacy of this highly influential pope–looking beyond his papacy to discuss the highly-charged issues that his successor will have to confront, including financial and sexual scandals, the roles of priests and women, and the very future of the church itself.
And throughout the book, he provides a gold mine of information that make this book an indispensable reference, including appendices that contain biographical notes on many of the key personalities of Catholicism past and present as well as a useful glossary of Catholic history and theology.
Here then is an illuminating history and must-have guide to a vitally important world event, one that is moving ever closer and will be watched with intense interest by more than a billion people around the globe.